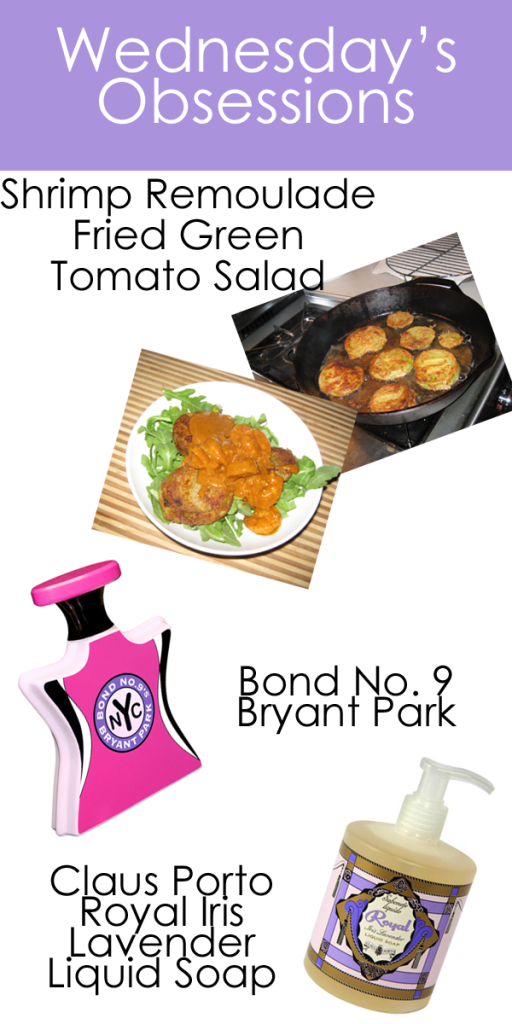 Wednesday's Obsessions:
Shrimp Remoulade Fried Green Tomato Salad: Most nights I do the cooking; I really like being in the kitchen and I find it very relaxing. However when it comes to frying I leave it to Seamus- who knew a skinny Irish boy could fry so well?! Every once in a while I will find green tomotos at the grocery which means fried green tomatos! Top it with shrimp remoulade (
recipe
) and bed of fresh arugula and you have an impressive Southern dinner- Yum!
Seamus' Fried Green Tomatoes:
1 1/3 cups flour
1 1/2 tablespoons cayenne pepper
mix ingredients together then dredge 1/4"-1/2" thick slices of green tomato in mixture. Meanwhile heat 1/4" peanut or vegetable oil in a cast iron skillet on medium heat. Fry for 3-4 minutes on each side or until golden brown. Drain on a cooling rack. Enjoy!
Bond No. 9 Bryant Park perfume- This has been my signature fragrance for almost 5 years and I still love the way that it smells on me- I know that some people change their scents depending on the season but I use this one year round; it is subtle enough as to not overpower.
Claus Porto Royal Iris Lavender Liquid Soap: I found this soap while shopping at
Earth Savers
and has since been my go-to hand soap for the guest bathroom. I love the smell of lavender, it seems so fresh and crisp to me.
soap
,
perfume