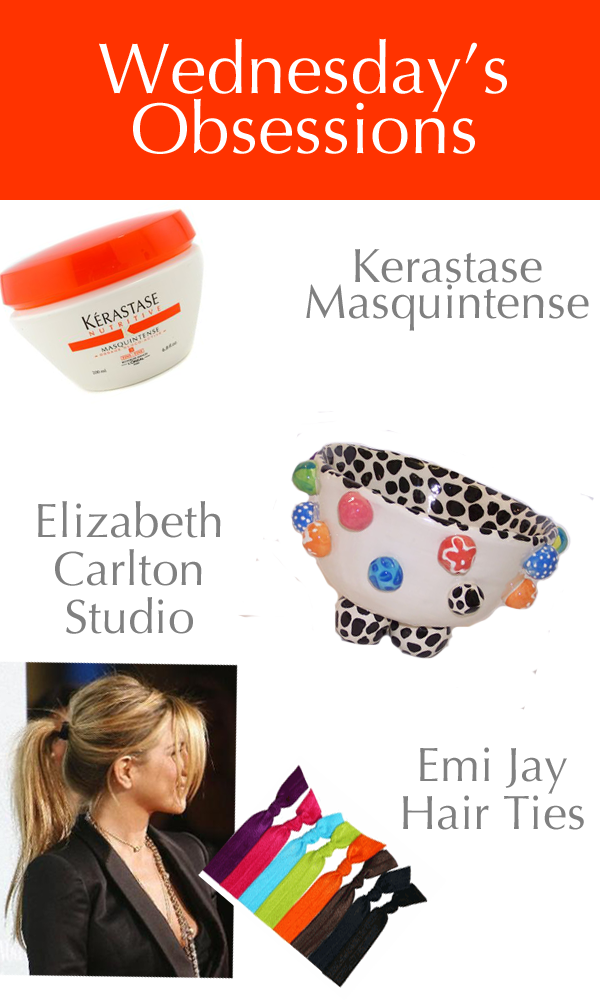 My Current Obsessions:
1. Kerastase Masquintense: The other day my hair was feeling really dry and straw-like. My new hairdresser in Baltimore recommended this and it is amazing!! It only takes a dime size amount once a week and your hair will feel and look soft and healthy.
2. I love Elizabeth Carlton's pottery; she owns this little studio in Charleston and while I was there the other month, I stopped by to get a thank you present for a friend. I have the bowl pictured above that I filled with lemons and limes and put it on my bar. It adds just enough color to keep the bar from looking to generic.
3. I am pretty lucky that my hair can hold it's shape really well- however that means when I have my hair up in it's usual ponytail, I'm left with a huge crease in my hair from the rubber band. I discovered Emi Jay hair ties while reading In Style and my hair crease problem was solved. Now when I take out the ponytail it leaves a soft wave instead of a crease. Celebrity fans include Jennifer Aniston, Kristen Cavallari, and Courtney Cox.
kerastase
,
image
,
image 2
,
pottery