Lately I have been noticing more and more people using flame stitch in their interiors; I'm no designer but I consider it a cross between an ikat and chevron. Are you digging this pattern and if so, how much would you use in your interiors and your personal fashion?
Baby steps: I love these gift bags from Elum- they are supposed to be luxury gift bags but I would use them in my office to organize all my loose papers.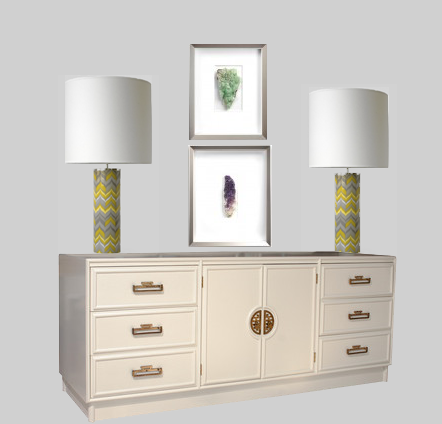 A little more: I photoshopped a little vignette to show how a little bit of this goes a long way. Lamps are by Jonathan Adler, buffet is from Pieces, and framed geodes (which were featured on my blog during my trip to High Point Furniture Market) are from Pheromone by Christopher Marley.
Even more: I love these velvet flame stitch chairs that I found on
Coco & Kelly's Blog.
Besides looking very comfortable, the pattern creates interest in the room
ALL OUT FLAME STITCH: This is a photo of Mary McDonald's dressing room that I found on The Decorista Blog. Judging from previous interiors Mary has designed, I know she is not afraid to use a bold pattern- but this might be a little much for me- I tend to be a bit more subdued. What about you?
Flame stitch in Fashion: No one does it quite like Missoni, however I have noticed a few other designers dipping their toes into the flame stitch pond- especially in swimwear. Which one are you?